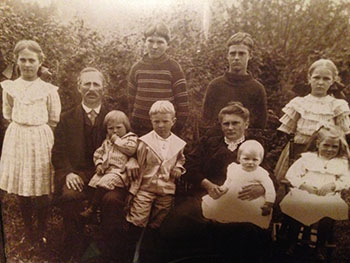 My Norwegian great-grandparents homesteaded in Washington Territory in the 1880s, farming oysters and fishing for salmon. I grew up in Puyallup, graduated from Puyallup High School and worked at McDonald's to help put myself through Yale College, where I studied Russian and history and graduated summa cum laude.
After spending a year living in Russia and collecting oral histories of Soviet Afghan war veterans, I attended Yale Law School. I clerked on the U.S. Court of Appeals for the D.C. Circuit and then returned to Seattle – and Capitol Hill – in 1995 to practice law at K&L Gates. Since May 2012, I have worked at McKinstry, where I serve as Executive Vice President and General Counsel. McKinstry is a Seattle-based construction and engineering firm that employs hundreds of union workers and specializes in energy efficient building. My husband is Eric Pedersen, who teaches special education at Roosevelt High School in Seattle. Our four sons, Trygve, Leif, Erik, and Anders, attend Meany Middle School on Capitol Hill.
I was brought up through Boy Scouts, church, and the example of my public-school-teacher parents to value community service. Since returning to Seattle, I have been actively involved in many community and nonprofit organizations. I am the past President and current Treasurer of Central Lutheran Church on Capitol Hill, where I helped to establish a nonprofit to run a community lunch program that feeds hundreds of people each week. I have taught Sunday School to elementary school kids for the last twelve years.
I chaired the board of the national civil rights organization Lambda Legal from 2003-2005, and served as Lambda's lead volunteer lawyer on our state's marriage equality case. Since 2005, I have served as chair of Lambda's National Leadership Council. I have sung in the Seattle Men's Chorus for 26 years. An Eagle Scout since 1984, I am proud to have returned to an inclusive scouting organization as an adult leader at BSA Troop 15 which meets at Ephphany School in Madrona.
And I provide free legal services to a variety of nonprofits, such as Pride Foundation, Social Venture Partners, Seattle Girls Choir, and Lambert House.
Having worked for many years as a volunteer and a lawyer on issues important to the district, such as health care, transportation and civil rights, I am putting my experience, skills and commitment to use for you and our district on the many important issues facing the Legislature.
I am doing my best to work collaboratively, respectfully and with integrity to help solve our state's challenges and ensure that the citizens of the 43rd District are well-served in Olympia.